Oh hey, it's 2018...
And we're three months in :D
2018 will be a great year for luxe. In this post we'll briefly go over why, what we're doing and have been doing, as well as talking about the 1.0 engine and site a little.
---

retweet this!
---
luxe 1.0 preview site
Today the new website for luxe went live! It's a better overview of the 1.0 engine, and it's a great place to answer a lot of the questions, and talk about the technology in much more detail.
This version of the site is not complete, I'll be posting major updates to the site in the next few weeks. I'd love to hear what you'd like to know about the 1.0 engine, and see where it fits in.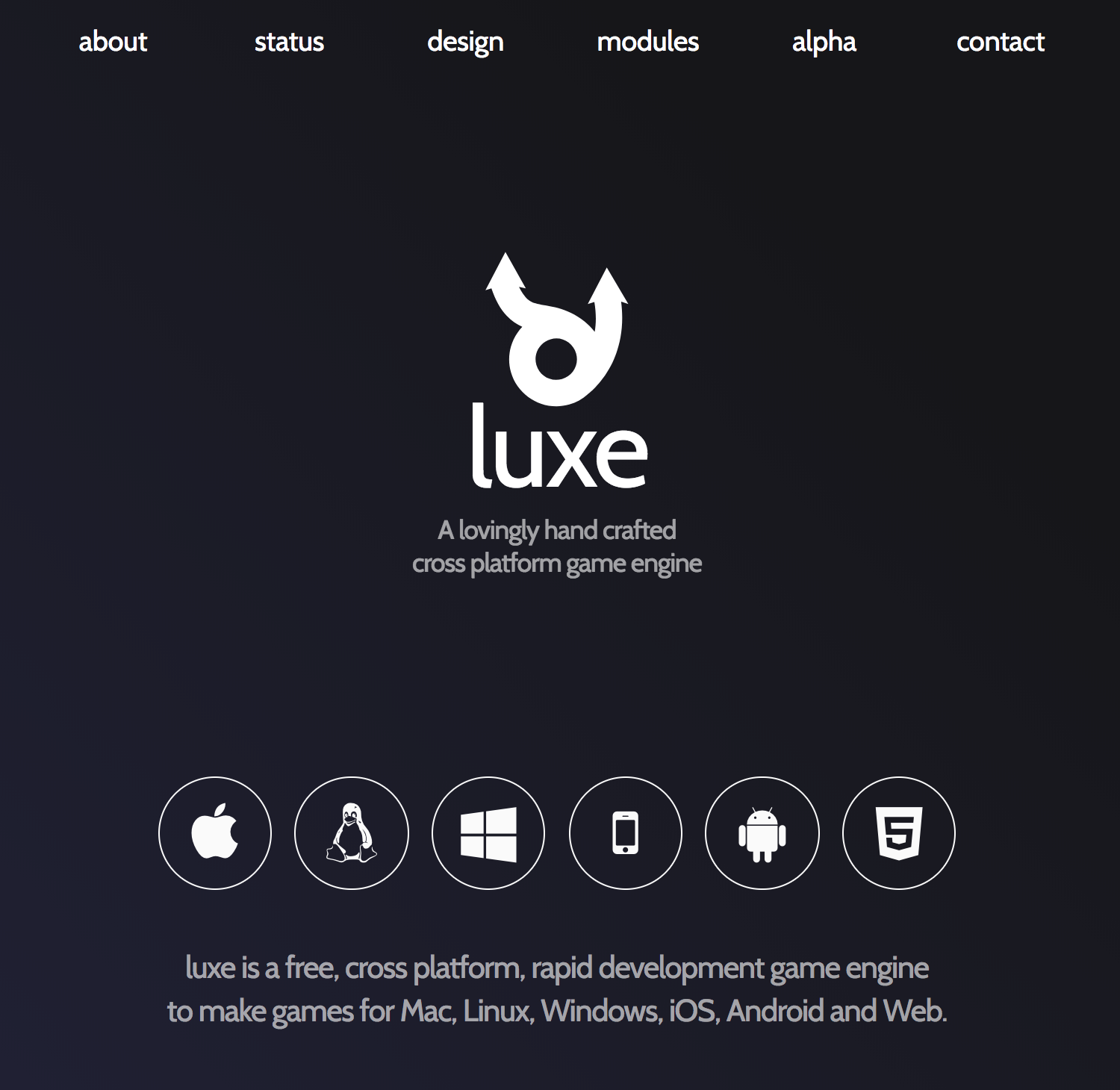 more details...
The plan is to post a LOT more detail, with more images and in depth system design details. We're also working on a demo to showcase luxe as it stands now, which I'll be posting about as well. Quite a bit of details have been added over time to the dev logs.
I've wanted to get the new site up sooner than later for a while now, because talking to people about the engine and then the alpha page being the main one is confusing at best. I'm much happier that it's up now, but I'm not as happy that the engine isn't in your hands yet - trust me we're working on that exact goal :)
If you have any questions about the engine, things you want to see on the site, or have anything to discuss regarding the 1.0 engine please, let me know!
1.0 - we're almost (finally) there...
Around late 2016, I started collecting all the design needs and requirements for the long term full vision of luxe, composing the design of what it is supposed to be. This was all the things each previous iteration of the engine had answered, as well as as all the ideas I knew I wanted to put in but had kept aside.
From there I started a scratch code base, ready to make luxe 1.0 come alive, and in a few months had a rough but usable engine. 2017 was spent implementing and testing it all (in between real life and work), as well as fleshing out a lot of the workflow stuff, and working on tooling and higher level things.
We've been making stuff with it all along, exploring still each step of the way, and gathering feedback from many developers who have used it during this time. Now it's 2018 and...
2018 is the year we all get to use luxe...
the way it was designed to be, with the core workflow in place.

luxe has been in my mind for a long time, and has been designed in iterations over years so I'm increasingly excited about finally seeing the engine I wanted, become usable after all this time.
It's like imagining giant cogs, different ways to think about making games for my own workflow sake, and now I'm finally seeing all the many gears meshing, and luxe being what I had hoped for. Some of these ideas go way back, like 10 years back!
can't wait to use it...
I know many people can't wait to try out luxe 1.0, and I can't wait to use it for my games either! Lots of people ask to use it sooner but I'm being intentional about timing of new users right now though, because I have to balance onboarding, fixing bugs users find etc while still finishing the core engine and tools. Then there's marketing, websites, research, I just have to be balanced. I don't work on luxe full time.
'usable' is the current priority
We're all excited to use the engine to make games, but the important thing is that it's actually usable to make games with. That's the current priority.
This doesn't mean the first public user facing release is going to be perfect, it's definitely not going to be final, but it is going to be very close to 100% system complete, and will be usable to make games with. It's a one click install, and it's all sorts of fun to use.
for the alpha
It's not going anywhere, as mentioned. But ideally don't use it for bigger projects (as stated in all the dev logs).
All the urls have been automatically redirected to /alpha/ on the site for now, visit https://luxeengine.com/alpha you'll be able to continue using it as before.
Please do be aware that while the code base will be staying around, it will be moving soon (to the luxeengine github) and various other housekeeping.
The alpha was a good chapter, but I'm much more excited about the one ahead so it will continue to be in the background.
luxe 1.0 preview build
This is what we're finishing up right now.
This will be a public closed beta.
It should be available really soon (putting a date on is really hard, but 'weeks' if you're desperate for a time frame).
The preview build has all systems in place, all editors usable and a bunch of samples and docs. It's a bit looser than what I would post for all users, so I'm going to be doing an initial bug fix round with more well versed users before I make everyone suffer through the most obvious problems and rough edges.
Sign up on the website if you have time to test it out, anyone is welcome to ask! I'll have to balance giving it to users based on time available and stability - please do ask/sign up though!
Short and exciting
2018 is going to be a great year for luxe.
I'm really happy with how it's feeling, and i'm really happy you're here for the journey.
Enjoy the new site and I'm looking forward to your feedback and thoughts.
\o
---
You can follow news about luxe on twitter @luxeengine or by subscribing to the feed or using the mailing list sign up above. You can find that information on luxeengine.com
Feedback and questions on this post can be found below, shared in this discussion, or email, or via twitter (@luxeengine or @ruby0x1).