Over here at the studio we've been working hard on luxe and on games made with luxe, and have been preparing more and more for the upcoming open beta. We're getting close and have a very clear picture of what's left, and moving rapidly toward it. We'll share this picture soon.
We recently hit around 140 people in the closed beta, and 900+ in the official luxe discord! Join us!
Development news
We've got a big dev log on the way, and a bunch of tech and design posts about the engine queued up. This is a news post primarily but with we'll be able to start posting more frequently again (see below!). I'm excited to share more of the road to open beta.
Community forum
The first important bit of news is the new community home!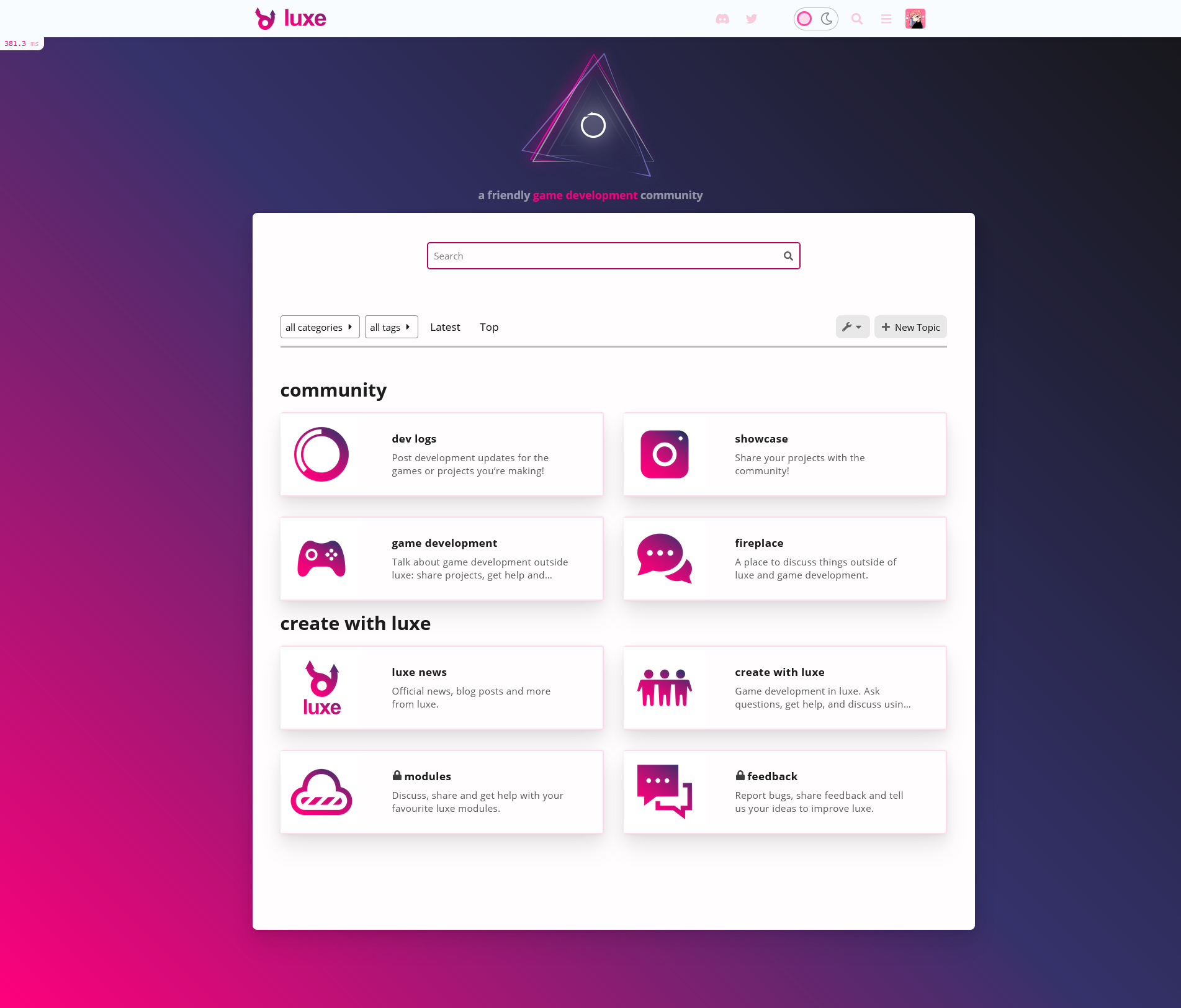 We find it's really important to have a central, permanent place for all things luxe that is easily searchable that is a complement to the documentation. To that end, we've set up the community in preparation for the open beta where we'll post some of the updates and details about luxe (see below).
Up till now, we speak to every tester directly and onboard them manually. Now that we're approaching wider testing though, the forum is a good way to open the gates and allow self-onboarding for many of the people who submitted for closed beta access (currently over 600 people 🎉).
You can join the community already and participate, and it's not limited to luxe only. We encourage you and your friends to hang out in our friendly game development community, share what you're working on and more.
We moderate intentionally as we want a comfortable place for everyone.
Support development!
You can now support the team developing luxe by throwing some money at the project. In return you'll get access to detailed, in depth behind the scenes info, access to the tech and dev logs early (rendering, entity system, ui etc), a bit of exclusive merch and more. note: The page is a work in progress, it'll look nicer and have nice photos of the sticker packs soon.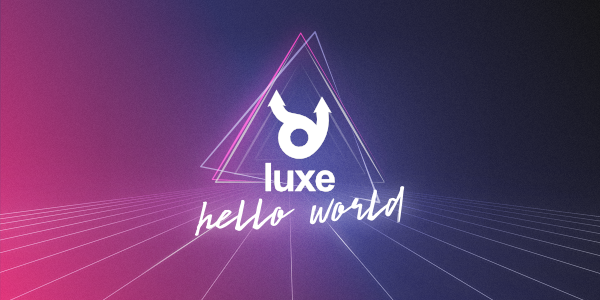 Why now?
A lot of people have asked over time (usually using the image below)... but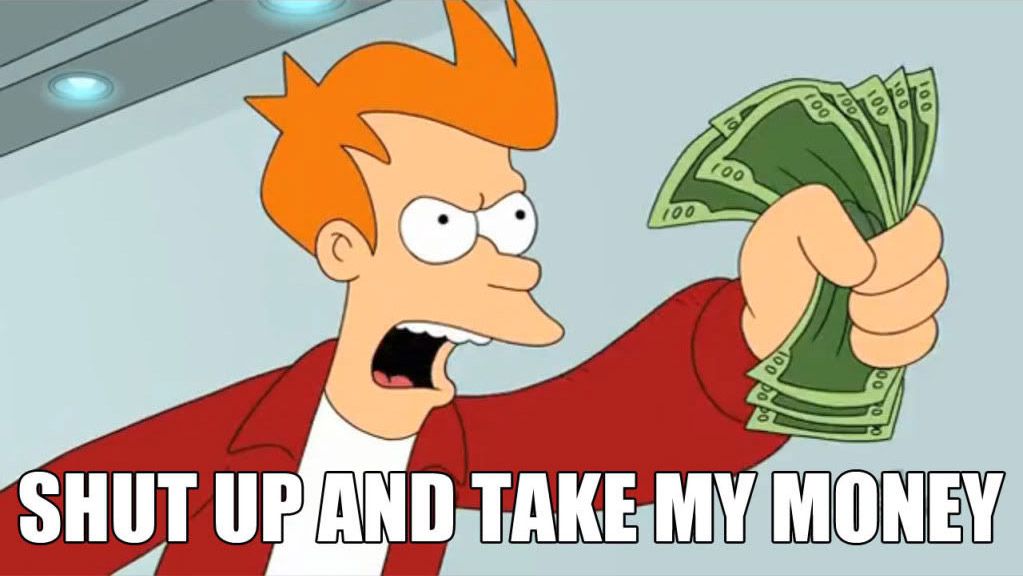 Until recently, it was just me making luxe in my spare time, while having a full time job, and then a child etc. I did that for nearly 6 years, just on this version of the engine, carefully designing and iterating on a version of the engine I want to use, and that I want to exist long term.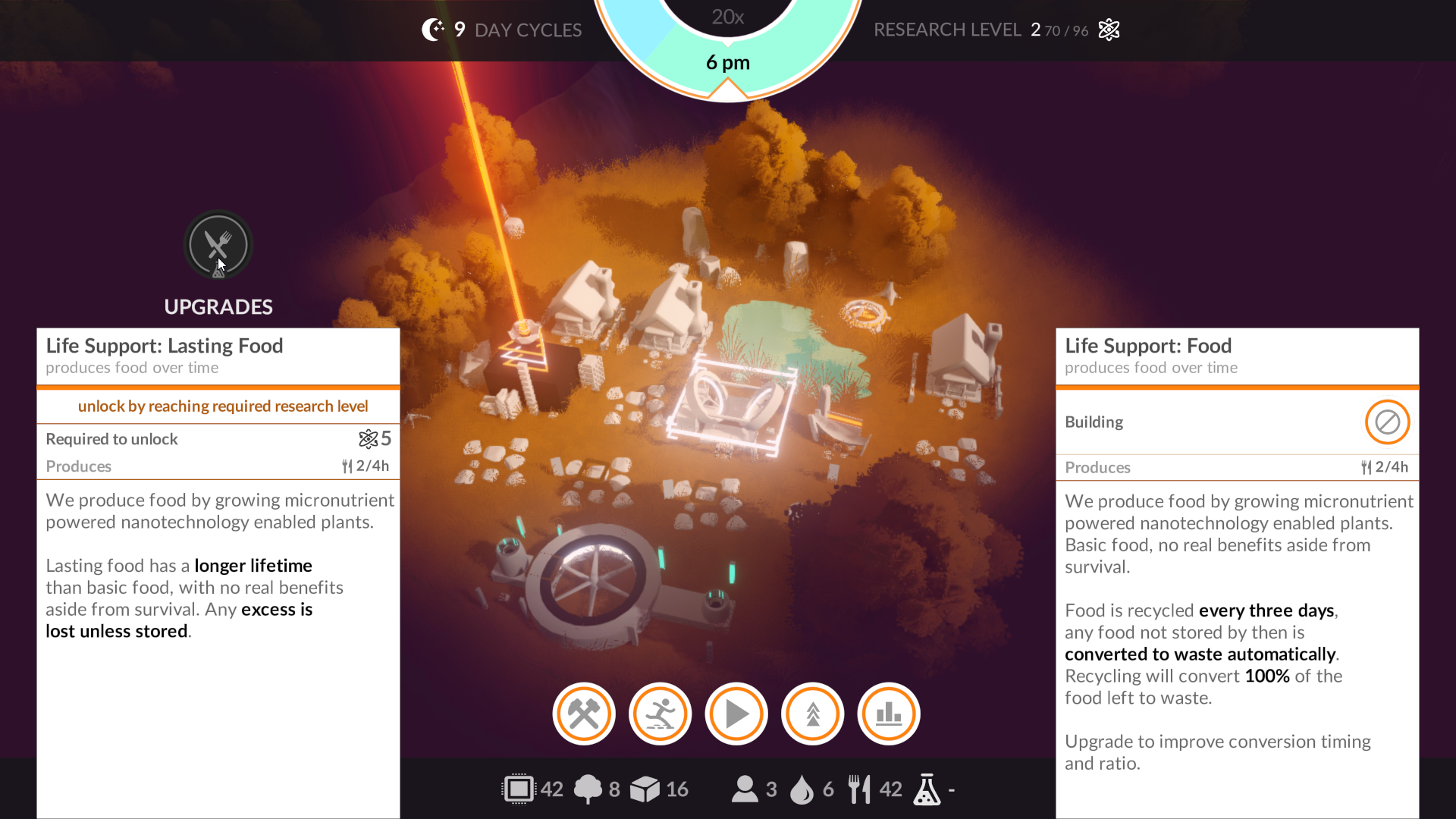 This bootstrap approach is slower but the outcome has been working out really well, because I'm able to work on larger commercial games like Mossfield Origins quickly with a workflow I really like, and I'll be shipping on desktop + console platforms with the engine soon enough.
During those years, people kept asking me how they can throw money at luxe, and it never felt right to accept that kinda funding when it wouldn't change how much time I could spend on the engine, realistically. I also rejected VC and other sources of funding because we won't compromise on the vision and goals for luxe. I rejected people asking and told them they'll have to wait till it makes more sense! We think it does now.
Late last year, we finally went full time on making games with luxe and working on the engine. I was fortunate to be able to hire Ronja part time to work alongside me, which I did out of my own pocket, because I really think it's important that luxe exist and be out there for people to use.
It's a good time to have the option available for people wanting to support development financially, because it does materially impact how much time can be spent on getting it out there, by allowing more focused development from more people. We're also a registered business and have all that fun stuff ironed out.
How will it be used?
Paying people to work on luxe open beta tasks and beyond. Usually as 1+ day a week, based on available support.
That's alongside myself and Ronja for now, e.g increasing the amount of hands working on it to 3+ people.
We have other collaborators who are available to help us ramp up to open beta that with enough support, would be able to dive in right away and get us there sooner. That's our goal, to get the engine into everyone's hands as soon as possible.

It all helps!
If you want luxe to exist, and in particular if you want it to be available sooner, you can help make that happen. If you can't support financially don't worry about it, joining the community and telling people about luxe is plenty.
We've added a few items to the FAQ page and will add more as it comes up.
Mailing list updates
Another thing as we move toward open beta is posting a lot more details about the engine technology, design decisions and progress!
To do that we've recently added categories to the email newsletters so you can choose how much of that you want in your inbox. Those posts will still be on the site and found via the forums etc.

Log in to your account on the luxe site (bottom right) and configure your preferences.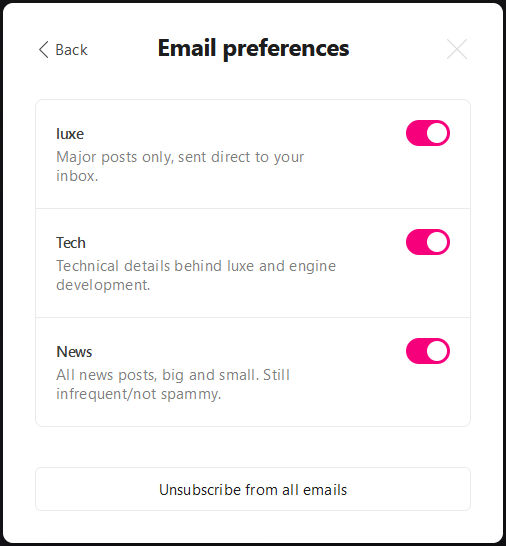 Mossfield Origins
The bigger game we're making with luxe was featured during the Future Of Play Direct where we premiered a new trailer! You can view the new trailer there, on the game page or on youtube.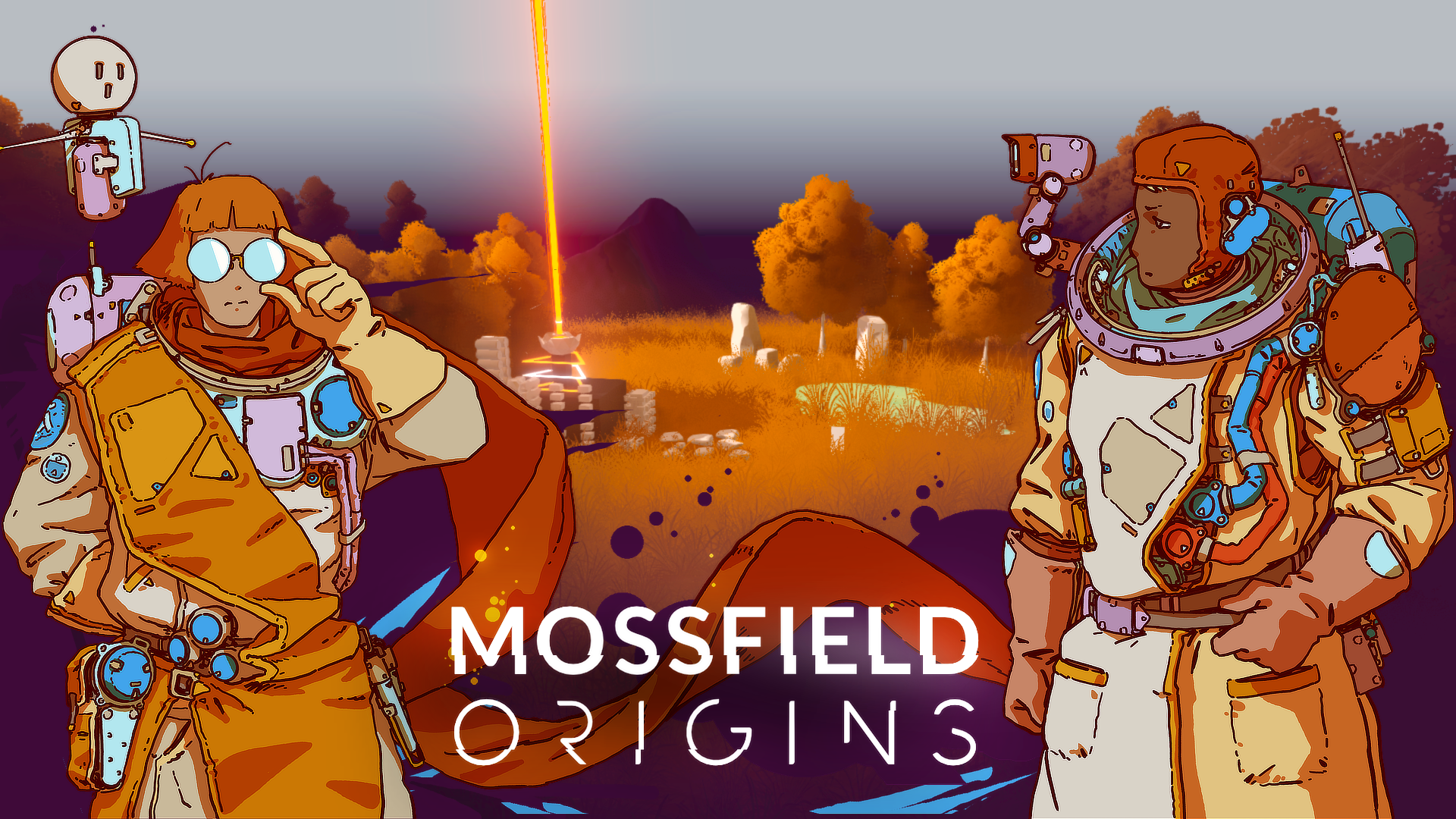 The game was also featured in the Earth Appreciation Steam event, and currently featured in the Season Of Pride Steam event too.
We're also excited to share that the game has signed with Kitfox Games who'll be publishing the game with us, they make games like Boyfriend Dungeon and publish gems like Dwarf Fortress. Read the announcment post for more.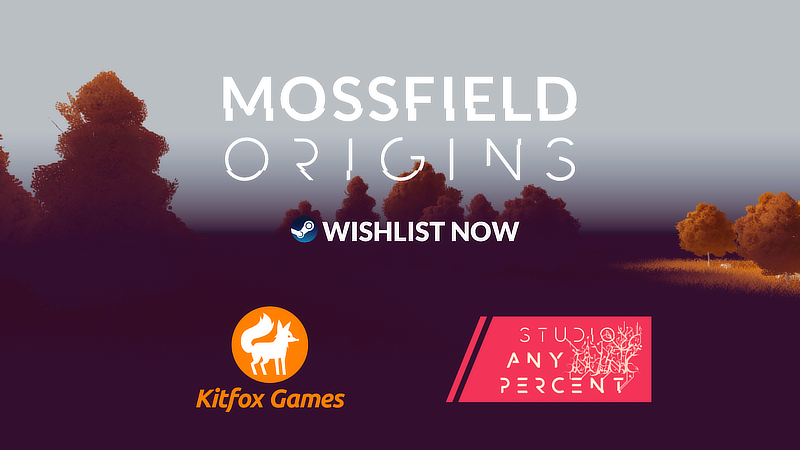 Looking forward
We're really excited to be where we are, working full time on the engine and games with it, and can't wait to get more people using luxe. Sign up for the closed beta, join the community, join the discord and we'll see you there!
---